Hauptsache Abkühlung: Für viele Deutsche war das in der letzten Woche die oberste Priorität, vor allem für jene, die sich nicht auf den Weg in das nächste Schwimmbad oder machen konnten und sich nach Alternativen umgeschaut haben.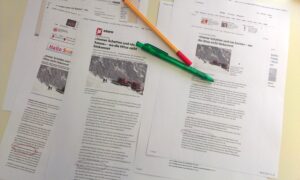 Die Deutsche Presse Agentur (DPA) war den kältesten Orten der Republik auf der Spur und auf der Suche nach unerwarteten Orten, die in den heißen Tagen Erfrischung bringen. Der Bericht "Immer Schatten und nie Sonne – wo die Hitze nicht hinkommt" ist am 2. Juli unter anderem in Stern, Zeit, der Süddeutschen Zeitung and the Frankfurter Neuen Presse erscheinen und die Kältekammer im Rheumazentrum Bad Kreuznach war dabei!
In der Ganzkörperkältekammer der ACURA Karl-Aschoff-Reha-Klinik kühlen sich täglich 20 bis 40 Rheumapatienten bei etwa minus 65 Grad ab. Zwischen 30 Sekunden und fünf Minuten harren sie in der wohltuenden Kälte aus, denn für sie hat diese eisige Kälte einen sehr positiven Effekt. "Die Kälte wirkt entzündungshemmend, zudem schüttet der Körper durch den Schock schmerzlindernde Glückshormone aus", sagt Therapeutin Rosi Alvarez. Und ganz nebenbei bekommen die Mitarbeiter beim Öffnen und Schließen der Tür auch noch eine kleine Brise eisige Kälte ab.
Von der erfrischenden Wirkung der Kältekammer an heißen Tagen konnte sich Anfang letzter Woche auch der Generalkonsul von China in Frankfurt Liang Jianquan persönlich überzeugen. Bei seinem Besuch des ACURA Rheumazentrums Bad Kreuznach besichtigte er mit großem Interesse auch diese Besonderheit für die Schmerztherapie und wagte gemeinsam dem Vorstand der Kliniken einen kurzen Abstecher in das Innere der Kältekammer.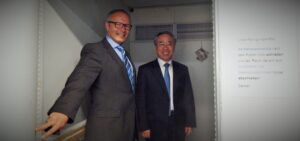 Danach besuchte er eine weitere Besonderheit des Rheumazentrums Bad Kreuznach, den einzigen Radonstollen in Deutschland. Auch hier werden Menschen mit chronischen Schmerzen aufgrund von rheumatischen Erkrankungen therapiert. Die Inhalation des natürlichen Heilmittels Radon lindert für viele Patienten den Schmerz deutlich, so dass sie bis zu einem Jahr schmerzfrei sind und ihre anderen Schmerzmittel, und damit deren schädliche Nebenwirkungen, deutlich reduzieren können. Auch der Stollen bietet mit seinen gleichbleibend 23,5°C Innentemperatur im Berg ein angenehmes und schattiges Plätzchen in heißen Tagen.
Mehr Informationen zum Radonstollen und den Therapiemöglichkeiten finden Sie unter Radon therapy.