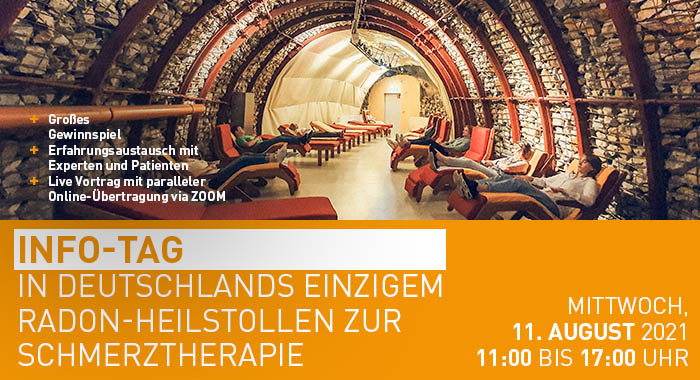 Der ACURADON Heilstollen Bad Kreuznach lädt zum INFO-Tag am 11. August 2021 ein. Informieren Sie sich zwischen 11 und 17 Uhr vor Ort, wie der ACURADON Heilstollen bei rheumatischen und chronischen Erkrankungen helfen kann. Wir bieten Führungen zu jeder vollen Stunde für Volljährige mit 3-G-Nachweis (geimpft, genesen, getestet).
There is also a large raffle, as well as the exchange of experience with patients and experts.
The event on Facebook, you can find here: https://www.facebook.com/events/131614165689975
We are looking forward to your visit in the middle of the Park, directly in the middle.
ACURADON healing tunnel Bad Kreuznach
Nachtigallenweg 3, 55543 Bad Kreuznach